As a marketer or a businessperson in this dynamic digital age, a "Text-Only" content created for a product to sell doesn't work anymore. Gone are the days of alphabetic prints in an era when millennials dominate half of the workplace. But will you let this ever-changing world devour your success?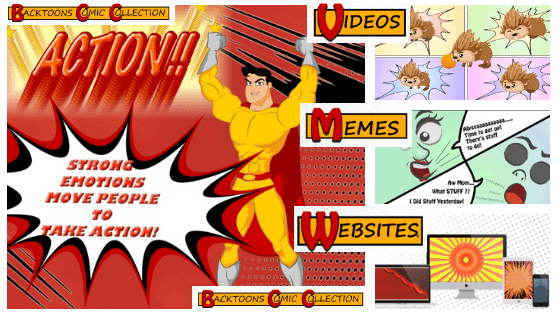 As our audiences change, so should our style of grabbing their attention be. If we want to turn bored visitors into raving fans in seconds, we should try feeding them with indelible, crave-able, relatable images they would like, share, and watch, right? However, this is easier said than done.
For most, creating visual marketing materials that pop,  wastes tons of money, time, and effort. If you don't have much money to spend, you are forced to scavenge the internet for mediocre illustrations to edit and use. With only a few useful resources, you doubt whether you are using the right graphic for your website, eBook, or video.
Well, we have good news for you!
We know how much people love comics. Viewers get so emotionally connected with this retro feel of bubbles, splashes, and splats so integrating cartoons doubles email open rates, shares and screen time. Can you think of any style of graphics more emotionally charged than the comic books and cartoons of your youth? We think not (and so do millennials)!
With that in mind, we offer you a gold mine of 3,000 treasures to uncover! You'll have access to thousands of comic backgrounds and elements that you can use on Facebook, eBook and other marketing materials. Everything you need to make comic strips, eBooks, and videos, to uncover!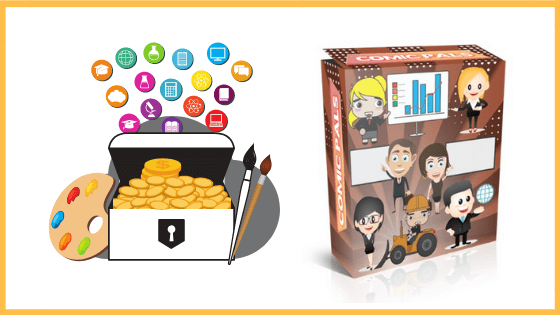 Say goodbye to boring presentations and lifeless videos for good with this awesome graphics kit. Stop wasting precious time and money searching for graphics on the internet. Use it to have a fancy hangout with your family instead. With this must-have huge graphics collection, get ready to be watched more and shared more with this best-selling deal — Backtoons Comic Collection offer.